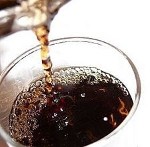 Have you ever gotten invited to the hottest spot in town, but had to turn it down when you realized your pockets were empty? What about when you were invited to that one event that you had been dying to get into, but realized you couldn't because your account was severely low? Those that have had this experience can tell you, it's not a fun one. Everyone wants to go out with champagne taste, but many are on a beer budget. Luckily, there are a few tricks of the trade that will allow you to have a jam-packed weekend, but still be able to afford the gas bill.
Start with Top Shelf Liquor, Then Switch to Well Drinks.
Whether your drink of choice is Jack and Coke, Grey Goose and Cranberry, or Tanqueray and Tonic, you're not going to notice if it's top shelf after the third or fourth one. Keep it high end at the beginning of the night so you can get that top shelf taste, then switch it up to well liquor when the taste doesn't matter anymore. This will save you enough that you can buy that pretty girl next to you one too.
Happy Hour is Your Friend.
Let's face it, most of us are part of the crowd that gets things started at 11PM, at an upscale venue, with three drinks in front of them. But when it's crunch time and you want a night out, happy hour is your friend. The internet is littered with websites that will find you the best deals for a night out without breaking the bank. L2N Nightly Deals is a great website where you can find nightly deals, including happy hours to avoid spending the money grandma saved for you. Once happy hour is over and you've had your fill, make your way over to a more upscale spot, strictly for the atmosphere.
Realistically, if you are going out, you're going to go home with less in your pocket than you did when you left. But that doesn't mean you have to take out a loan just for a night on the town. These are just a few cost cutting techniques that will help you.